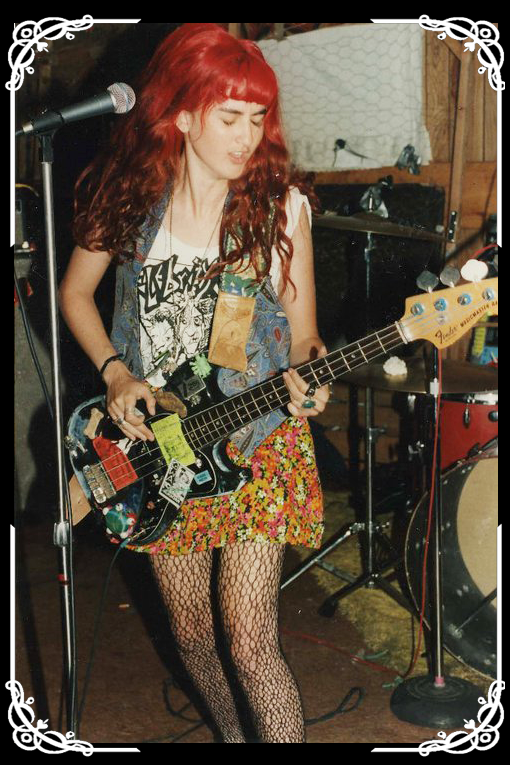 Jula Bell is an American singer, bass player, autoharpist, spoken word artist, poet, activist, and writer from Los Angeles California.
 She has been a fixture in the Los Angeles punk scene since the 1980's. She grew up in Los Angeles, and attended Boston University as an Opera Major.  She completed her studies in voice at USC, where she graduated from in the 90's. She was a child actress , but is mostly known in the film world for her work in film/tv and video production with Propaganda Films, Limelight,  David Lynch (Art Dept. Coordinator for Lynch/Frost Productions on Twin Peaks and Art Director for the Bravo Twin Peaks Log Lady intros). She has a few cameos in Twin Peaks as the Vacuum Mistress and as Miss Twin Peaks in the second season. She is also interviewed in The Twin Peaks documentary, Secrets from Another Place, and is interviewed on the Twin Peaks definitive gold box edition. She also worked on stop motion and computer animation with 23D Films (Line Producer on The Simpsons in Australia, Bjork's Bachelorette, Los Fabulosos Cadillacs' Calaveras Y Diablitos, and The Red Hot Chili Pepper's Californication)
     She got her start at 18 in film production working on car commercials for Chambers and Associates, and on rock videos with the likes of Chris Issak (Dancin'), Elton John (I'm Still Standing), The Bangles (Manic Monday), The Church (Tantalized), Sting (Fortress Around Your Heart), John Lee Hooker (The Healer with Carlos Santana), and Cheech and Chong (Get Out of My Room Mockumentary where she has an on screen cameo with Chong) 
     In the 80's Jula Bell started doing voice overs and sound track work.  She worked with Mark Mothersbaugh (Tank Girl opening sequence duet with Devo for Girl U Want and El Gato Felix/Felix the Cat en Espanol), Rolfe Kent (Kate and Leopold, Failure to Launch, and Town and Country), and Out of the Dark (featuring Divine, Tracey Walters, and Karen Black).  Jula Bell's vocals are also featured in Bobsled's rendition of  The Monster Mash for the film Campfire Tales, and she prides herself on doing two songs for Bill Nye the Science Guy. She is also featured on multiple commercials including one for Levi's (radio commercial),Twinkies (As young Jula in 1970), and Unruly (Prince Matchabelli fragrance).  She has also done guest vox on albums for Thelonius Monster, The Dwarves, The TVTV$, Pat Ruthensmear (Pat Smear) , Maximum Honkie, and Celebrity Skin. 
Jula Bell's touring bands were Bulimia Banquet (1986-1992) , Bobsled (1992-1999), Marc Spitz Freestyle (MSF) (2000-2010), Nip Drivers (2003-2007) and Miss Derringer (2003-2005). 
She was also a member of The Fags (a mid era punk band with Jennifer Finch of L7 1984-1985), Minions of Parody (a 1985 South Bay Joke Death rock band with Roger Manning of Jellyfish/Beck, Paul Koudounaris  of The Imperial Buttwizards, and Al Hansford of Bulimia Banquet), Cactus Dick (A KXLU DJ band with Adam Bomb of Brujeria and Nip Drivers, and Knick Nacks 1984/1985), a mixture of Bobsled plus Nip Drivers constituted The BobDrivers (an acoustic band with Jula and Mike Webber of the Nip Drivers 1999- 2000). She did some solo acoustic projects starting in the early nineties with her "punk rock autoharp", but also played acoustically with The Manzanita Sisters (Featuring  Bell, Marc Heathfield of Short Dogs Grow, and Mia Ferarro), and the Jula Bell and Eddie Muñoz (The Plimsouls,The Skunks, Magic Christian) Project. 
Jula's bands Bulimia Banquet and Bobsled were an inspiration for the Riot Grrrl movement. Both bands put out full length albums and multiple videos.  Bulimia Banquet put out two albums with Flipside Records (Eat Fats Die Young and Party My Colon), A single with Piece of Mind (Curse me/Replete), and a multitude of comps including Flipside Vinyl Fanzine #3, Welcome to Our Nightmare (Triple X), and Gabba Gabba Hey (Triple X).  Bobsled put out one full-length album Darlahood on Tacklebox/Cargo, a single with Hell Yeah Records, a single with Helter Skelter,and a multitude of comps including Cause (Piece of Mind),KXLU Demolisten 2 comp,Blackout LA, KPFK's I Give the You the Head of Corporate Rock Vol. I, and the Auto Body Experience comp.  Marc Spitz Freestyle  (MSF) and Nip Drivers recorded an unreleased album in 2006 that is due for release in the winter of 2020.  
Jula has been an activist with Bohemian Women's Political Alliance (started by Exene Cervenka of X and Nicole Panter) and Women's Action Coalition (WAC). Bell was part of the LA spoken word scene for a brief stint in the 90's. 

She was also one of the founding members of Punx of the Round Keg aka PORK (Punk music and art events coalition in downtown Los Angeles co-founded by Jennifer Precious Finch and Cali Dewitt).  She wrote multiple articles for Fizz (aka Fiz Music and art magazine) where she  pioneered Jula's Word, her comic book column. She also contributed to Fizz's I Had a Mohawk in 3rd Grade, Petting Zoo, and Dippity Doos columns.  She did a guest writer spot for Flipside Fanzine where she shared  a Bulimia Banquet 1991 European Tour diary.  She also contributed to  Dave Markey's We Got Power hardcore punk from the 80's book.  Bulimia Banquet and Bobsled are both featured in Lisa Apramian's and Courtney Love's  Not Bad for a Girl (The quintessential Riot Grrrl Documentary), and Bell is featured in Tanya Pearson's  Women of Rock Oral History Project. Marc Spitz Freestyle is featured in The Power of Expression: Showcasing the photography and Flyer Art of Fred Hammer,  and Bulimia Banquet is featured in Cesar Padilla's Ripped: T shirts from the Underground. 
Jula is a black belt in Kenpo Jitsu Ryu and is currently living in Los Angeles (Silver Lake) and Ventura California where she owns a Dog Camp and Pet sitting business.
 She lives with her Husband Adam, and stepdaughter Margaux.  
Jula Bell for the Women of Rock Oral History Project