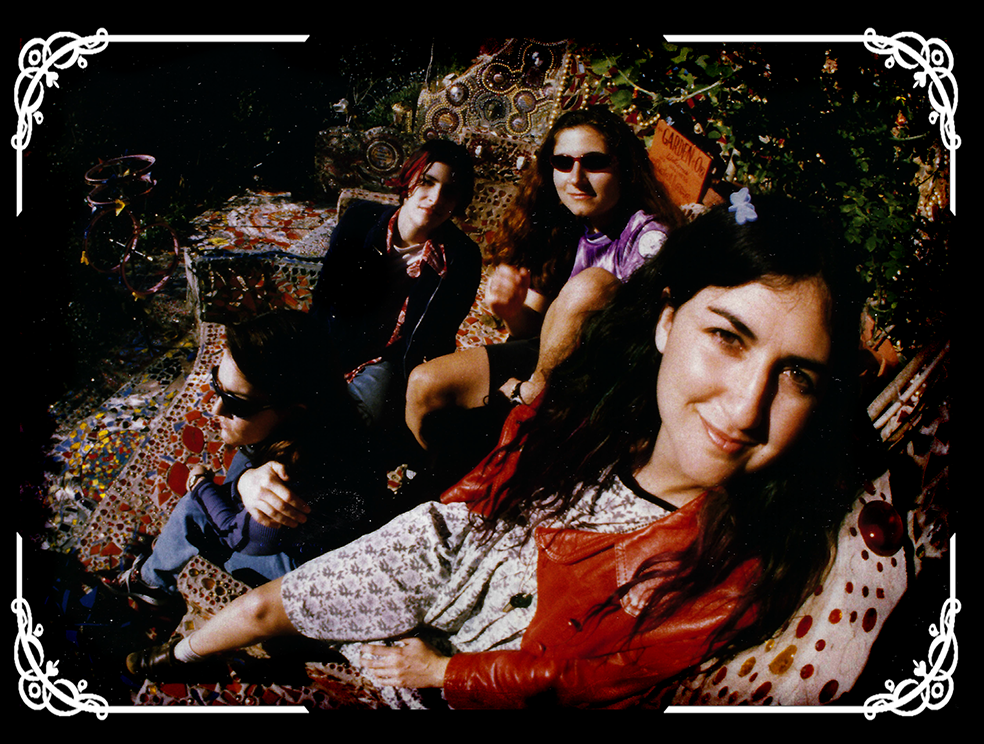 While everyone was looting or watching Los Angeles burn during the 1992 riots, a rockin' punk band named Bobsled was born. 

Bobsled began as a side project for Bulimia Banquet, with Jula Bell (Marc Spitz Freestyle, Nip Drivers, Miss Derringer, Bulimia Banquet) on Bass and Lead Vox, Steve Dro' (Angry Samoans, RF7, Moral Decay, Aggression, Fifi, Twister Naked) on Guitar and B.U. Vox, and Travis Johnson (Final Conflict, HR Band, Dick Dale, Twister Naked) on Drums and B.U. Vox.  When Bulimia Banquet disbanded, Jula and Dro' added Peter Tomlinson (Glue, Pedro, Muriel and Esther, Shadow Project, El Vez) on drums and B.U. Vox.  The first lineup had a warm reception around the LA club circuit, with their own special brand of gleeful speedy chunka-chunka punk. 
Bobsled began morphing into an all-female version, when Jula and Judy Cocuzza (Drummer for Borax, Betty Blow Torch, Cheap Chick, Priss) started jamming together. They didn't intend to make it an all-gal lineup, but shortly after, they teamed up with Patricia Klein (guitarist for Quiver, Patsy, Lou Man Group, Infinity) and Mia Ferraro (guitarist for Hole, Bulimia Banquet, Spoon, Sapphic Musk).  After Patricia left to do Patsy full time, Sharon Nighland (aka Sharon Needles bassist of Tongue, Butt Trumpet, Betty Blow Torch, Legal Weapon, Priss, Cheap Chick) joined the crew, and it was another perfect fit. Together they created an incredibly unique and satisfying sound.

They played hard, fast, tight, and were infinitely charming as well as punk as f–k. Fans dug Bobsled's sing-a-ble anthems and infectious harmonies, many of which were about female empowerment.  They blasted sexual stereotypes and came up with some very poignant, yet playful songs. Not only were the ladies highly proficient musicians, they were also all about donning silly hats and outfits, in turn, each Bobsled show felt like a special occasion. 
The majority of Bobsled's  touring was with Final Conflict and FYP. 

Bobsled
, are considered to be 
Riot Matriarchs
, and an inspiration for the
Riot Grrrl
movement. 

They put out their CD "Darlahood" on Tacklebox/Cargo, as well as a single on Hell Yeah records, a single for Helter Skelter's punk mag "Hate", and  2 cassette demos (the green cassette and the purple "yellow school bus" demo cassette).  Bobsled were featured on many punk comps, including Blackout L.A., KPFK's I give You the Head Of Corporate Rock Volume I, and KXLU's Demolisten 2 . Bobsled are also featured in Lisa Apramian's and Courtney Love's documentary "Not Bad for a Girl" (the quintessential Riot Grrrl movie), Naked Jane, and Campfire Tales (with a cover of The Monster Mash).  
Bobsled disbanded in 1999. Judy and Sharon went on to reform Butt Trumpet and renamed it Betty Blowtorch.  Jula prepped for the new millennium with a few new projects. Her acoustic projects were The Bob Drivers featuring Bell and Mike Webber (vox for Nip Drivers) and the Jula Bell and Eddie Muñoz (guitarist for The Plimsouls, The Skunks, Magic Christian) acoustic project. After that she joined Marc Spitz Freestyle, Miss Derringer, and Nip Drivers.