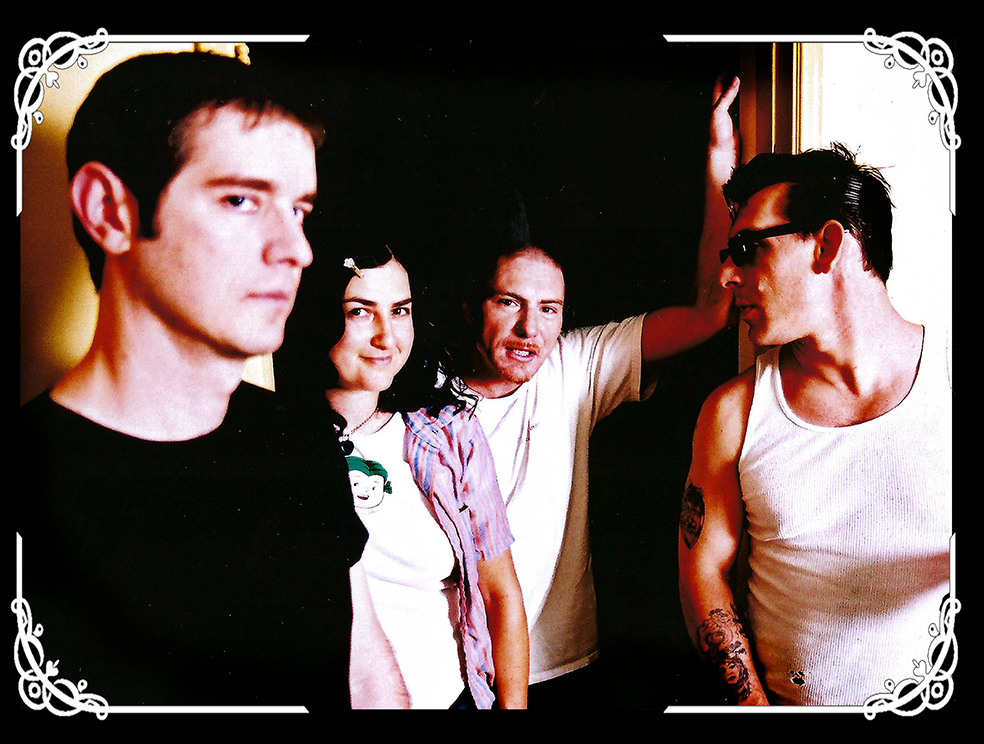 "When people hear the name Mark Spitz they either chuckle or stare at us blankly" says Jula Bell, bassist for the latest musical gift from Los Angeles, Marc Spitz Freestyle. For those of you who are of the staring set, Mark Spitz is an American icon whom you should familiarize yourself with. After almost 30 years, he is still considered the world's greatest competing swimmer. Spitz earned thirteen olympic medals, seven of them gold. "We wanted to go for the gold, and figured that Mark Spitz could lead our way to punk rock greatness" says Bell. "Besides being an amazing swimmer, Mark Spitz was also famous for shaving his entire body except for his hair and ample moustache" says Cameron. "He was the Freddy Mercury of swimming!" chimes in Bell.
If their goal is to be punk rock heros, then these folks are well on their way. This band is teeming with top notch Los Angeles underground punk rock superstars. The band features Jula Bell of Bobsled and Bulimia Banquet fame, Greg Cameron of the renowned SWA, Jeff Dahl, The Chemical People, The Punk Rock Vatos, and Greg Ginn's Octoberfaction, Dave Wakefield of Sukia, Wonderbug, and Scrubber Deluxe, as well as guest vocals from Mike Webber of Nip Drivers notoriety. Together, these four meld into a powerhouse punk-a-thon. Their tunes ranging from pop-punk to thrashabilly, with a few deliciously alluring and tasteful biting ballads thrown in for kicks.
On stage, Jula and Mike spazz out like tore up poster children of hedonism, while the band cranks out some serious punk. The lyrics are biting, soulful, and witty, while the music is faster than a fifty meter relay on meth. When asked why he likes to sing and play punk Mike says "I play  because it makes me feel normal. I sing because I have no self esteem, but strangely enough, I am better than most." When Greg  is  asked about how he feels about  today's scene his reply is "There are still some really good bands out there, but we were fed up with the  mediocrity in the L.A. scene, and needed to make some music that we and our friends could listen to." "Playing punk helps us break through the wall of anti-depressants known as society. We are pretty and witty," says Webber. "Rocking out live is the best thing. I will do this till someone pulls the plug on me. Then I will duct tape myself upright so I can rock next to my amp" Says Wakefield. "Society needs more  bands that sing about sex, drugs, and swimming" adds Bell.
The coolest part about this band is their original sound and their obvious admiration of one another. When Mike, Jula, and Dave's voices collide, it is physically as well as spiritually empowering. It reminds me of the days when lyrics actually meant something to me. Just thinking about these patron saints of punk makes me want to raise my fist high, get a mohawk, and jump up and down on my bed.
– Greg Wells  May 2000 –
MARC SPITZ FREESTYLE PHOTOS
MARC SPITZ FREESTYLE FLYERS