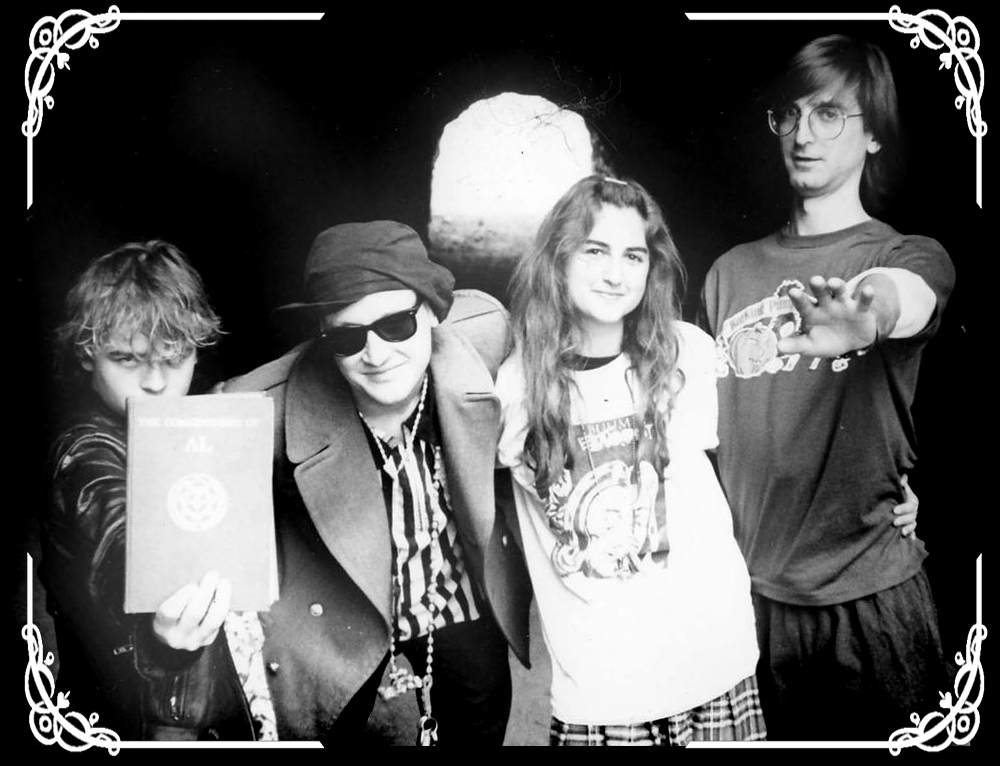 Bulimia Banquet was a very unique ½ male and ½ female punk band that began in Los Angeles, California in 1986 and disbanded in 1994.

 Their sound was like no other bands at the time, and they quickly gained notoriety as a band to watch.  They were on the cover of a multitude of fanzines and featured on many punk rock comps. Most notable was the cover of Southern California's Flipside magazine.

 The band prided themselves on their aggressive and extremely fast playing style. Their songs were social commentaries on everything from societal problems, gender inequities, and their own personal glamorization of the mundane. They were gender non-conformists who didn't take themselves too seriously.

Their live shows were a head spinning discordant to chordal delight, peppered with heavy chunky guitars, timely self deprecating humor, and the occasional sing-a-ble punk anthemic lyrics all mixed in at a fiery pace. They were tight and powerful, and lots of fun to watch live. 

Jula was famous for her aggressive sea shanty punk bass style, and her versatile banshee pipes. Al was renowned for his diabolical experimental demon guitar, Ingrid for her straight ahead metal influenced bombastic rhythm guitar and growly voice, Jason for his straight ahead hardcore drumming mixed with some very unique backwards beats, and Dez for his legendary ass kicking guitar mastery and infinite punk rock credibility. The later guitarists Steve Drojensky and Mia Ferraro added some accomplished and super solid punk rock rhythm, and Travis Johnson laid down some mean and effortless skin beatings. 

They toured the US and Europe in the pre cell phone era and played a variety of punk venues.   They played across the globe with hardcore bands, art punk bands, pop punk bands, riot grrl bands, metal bands, speedcore, and thrashmetal bands. 

The band  members included Jula Bell on Bass/ Vox, Al Hansford (The Imperial Butt Wizards, The Omlits, Fur on Rubber, Bathsalt Zombies) on Guitar/Vox, Ingrid Baumgart  (Razebrae, Malicious Grind )Guitar/Vox, Jason Greenwood (PUI, TVTV$, Punk Rock Vatos) Drums/Vox, Dez Cadena (Black Flag, DC3, Flag,The Misfits) Guitar/Vox, Travis Johnson (Final Conflict, HR Band, Dick Dale) Drums/Vox, Steve (Dro') Drojensky (Angry Samoans, Aggression, Moral Decay, RF7, Bobsled, Fifi) Guitar/BG Vox, and Mia Ferraro (Hole, Bobsled, Spoon)Guitar/Vox.  Earlier drummers for the band included  Greg Cameron (Marc Spitz Freestyle, Swa, October Faction, Punk Rock Vatos) Drums, and Nick Passiglia (Nip Drivers) on drums.

Bulimia Banquet put out two albums with
Flipside Records
. 

The first album, Eat Fats Die Young was produced by John Girdler, Al Hansford, Pat Smear (The Germs, Nirvana), and Don Bolles (The Germs and Celebrity Skin) at Pacifica Studios and West Beach Recorders.

Party My Colon was produced by Bill Stevenson (Descendents, Black Flag, All) and Stephan Egerton (Descendents, All) at Westbeach Recorders.  They also put out a split single with Jula song and a Dez song with Piece of Mind (Curse me/Replete), and a multitude of comps including Flipside Vinyl Fanzine #3, Welcome to Our Nightmare (TripleX), Gabba Gabba Hey (Triple X).  They made a few videos for Curse me and Dine or Die,  and are featured  in Lisa Apramian's Not Bad for a Girl (the quintessential Riot Grrrl movie).

More Bulimia Banquet links
BULIMIA BANQUET OFFICIAL VIDEOS
Bulimia Banquet - Dine or Die
Bulimia Banquet - Curse me
BULIMIA BANQUET LIVE VIDEOS
Bulimia Banquet - Live in Humboldt
Bulimia Banquet - Live in Stuttgart Germany
Bulimia Banquet - Live at the Shamrock 11.2.91
Bulimia Banquet Reunion Show - The Redwood 7.8.2011
BULIMIA BANQUET ALBUM ART